May 15th, 2009by admin
Have you been daydreaming on how to start a daycare? Well, it's time to sprinkle some of that magic dream dust into your daily life to make running your own daycare a dream come true.  And why not?  It makes perfect sense for the extra time you'll share with your own children, the new friends they'll make and the extra money YOU will make along the way.
Of course, let's not make it out to be a flawless fairytale from the get-go.  It'll take mucho time and work to make this fantasy a reality, Tinkerbell!
That's why, like any business, it's so important that you be clear on your reasons for doing it on the first place.  It's said that if you have a strong enough answer to "Why?" (or many answers to it), you can deal with almost any answer to "How?"  So take a few moments and write out your answers.  Writing brings clarity and also will let you reflect on your answers later to refine them further.
Once you've got that down and feel your inner resolve strengthening to make your new daycare venture work, plan some field trips to other daycares in your area.  You can easily go under the guise of potentially enrolling your children there.  Take advantage of the situation by asking loads of questions and really scoping their facilities out.
Will you be able to compete these guys?  Or do you even want to?  Whatever your answers to these questions, figuring out both you do and don't like about these places will guide your path forward in creating the daycare that's ideal for you.
For example, would you run your daycare from your home or from a commercial building of some sort?  If you're set on doing it from home, remember to check your city's zoning laws to see if that's even allowed.  That last thing you want is to invest a big chunk of your life savings into your business only to be shut down and fined for violations.  Ouch!  That hurts just thinking about it.
And speaking of investing, it's almost sure to payoff in time to start writing up a business plan here and now.  After all, it is going to be a business, so you'll want to make some money at it, right?  Right.  That means running some numbers to net out how much profit you can make while being roughly competitive with similar daycares in the area.  Of course, you may be able to charge a premium if you build in something cool that they don't have (organic sugar-free kiddie treats anyone?).
Overall, there's obviously much more to it than just these first few steps, but starting a business is a bit like having another baby.  It's got to crawl before it can walk and walk before it can run.  But with a little patience and nurturing, you can quit daydreaming about how to start a daycare and DO it.
Click here to find out how to quickly and easily start your own home-based daycare business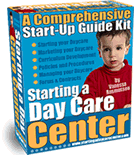 Related Posts:
Related Posts:
Related Posts:
Related Posts:
Related Posts:
Filed under
Child Education
| Tags:
children
,
children's daycare
,
Daycares
,
kids
,
start a daycare
|
Comment (1)